New specialty coffee place in town: SNOOZZ Cafe in Oradea, Romania. 
We're happy to see this dear project now completed and ready to open their doors for the public. 
The task was to create a cozy, welcoming interior in a difficult, small place. There was a thin wall that had to be torn down to create a single space, which also helped with the natural light spreading beautifully all over the place. The location is in an old building with thick brick walls that were covered in plaster, so we decided to take down just a part of the plaster and let the brick visible. 
The floor was kept neutral, using the decorative tiles from the same collection in the bar area to emphasise the most important place - where you place and take your order. We used it again at the bar by the window, but also in the tiny bathroom. We painted part of the walls and the ceiling in dark grey to add contrast and intimacy to the atmosphere.
All in all, we tried to play with textures and details, giving various areas of interest for the eyes, while at the same time keeping it simple.
Check them out on instagram: https://www.instagram.com/snoozz.cafe/
Interior design & branding by

davidsign

.
Photography by

Andreea Iancu

 
Design interior: Snooz Cafe
Un nou tip de cafenea își deschide porțile în Oradea, RO. 
Ne bucurăm să luăm parte la deschiderea unuia dintre cele mai dragi proiecte, nouă. Scopul nostru a fost sa creăm un mediu cald și primitor, într-un spațiu mic și destul de dificil de optimizat. Iar, cum nouă ne plac provocările, rezultatul este încântător. 
Piedica principală o constituia un perete care impărțea spațiul, iar noi am dorit sa creăm un mediu unitar, care să permită luminii să învăluie întregul loc. Astfel, am renunțat la acest perete, cafeneaua fiind un open-space luminos. Clădirea din care face parte acest spațiu este una veche, construită din cărămidă. Am decis să eliminăm o parte din tencuială, să păstrăm cărămida și să o lăsăm vizibilă, datorită aspectului ei foarte frumos. 
Am ales o pardoseală neutră, iar în zona barului am optat pentru plăci decorative, ca să scoatem în evidență vizual zona cea mai importantă - unde plasezi și de unde ridici comanda. 
Pentru o parte din pereți și tavan am mers pe tonuri de gri închis, pentru a contrasta cu restul culorilor și pentru a crea o atmosferă intimă. 
​​​​​​​
Ne-am străduit să creăm un ambient plăcut, cozy, intim și în același timp am căutat să ne jucăm cu detaliile, păstrând spațiul simplu și jovial. 
Interior design & branding: 

Davidsign

.
The low white furniture by the walls actually hides the heaters; the diamond shaped holes were inspired from the tiny diamond shaped tiles from the decorative floor. 
Mobilierul alb de pe pereti ascunde, de fapt caloriferele, iar modelul în formă de romb de pe el este inspirat din modelul de pe gresia decorativă.
For warmth, we opted for the wooden finishes of the tables & chairs, paired with the soft, textured fabric that hugs the chairs. There was something missing in the white/grey scheme, so we completed it with a pop of colour in the form of the pumpkin red sofa, which we used again here and there around the interior (e.g. in the three lamps by the window).
​​​​​​​
The dark metallic grid under the ceiling helps hide some cables and acts as a great support for hanging some greenery to liven up the place even more. 
Last but not least, the lamps are ceramic, custom made, branded with the client's logo and painted afterwards. 
Desigur, au fost nelipsite detaliile din lemn - scaune și mese - îmbracate în material textil. Pata de culoare din acest ambient este creată de canapeaua de un portocaliu-roșiatic, culoare pe care o veți mai regăsi și în alte detalii (cum ar fi lămpile din dreptul ferestrei). 
​​​​​​​
Corpurile de iluminat sunt ceramice, realizate la comandă și personalizate cu logo-ul clientului.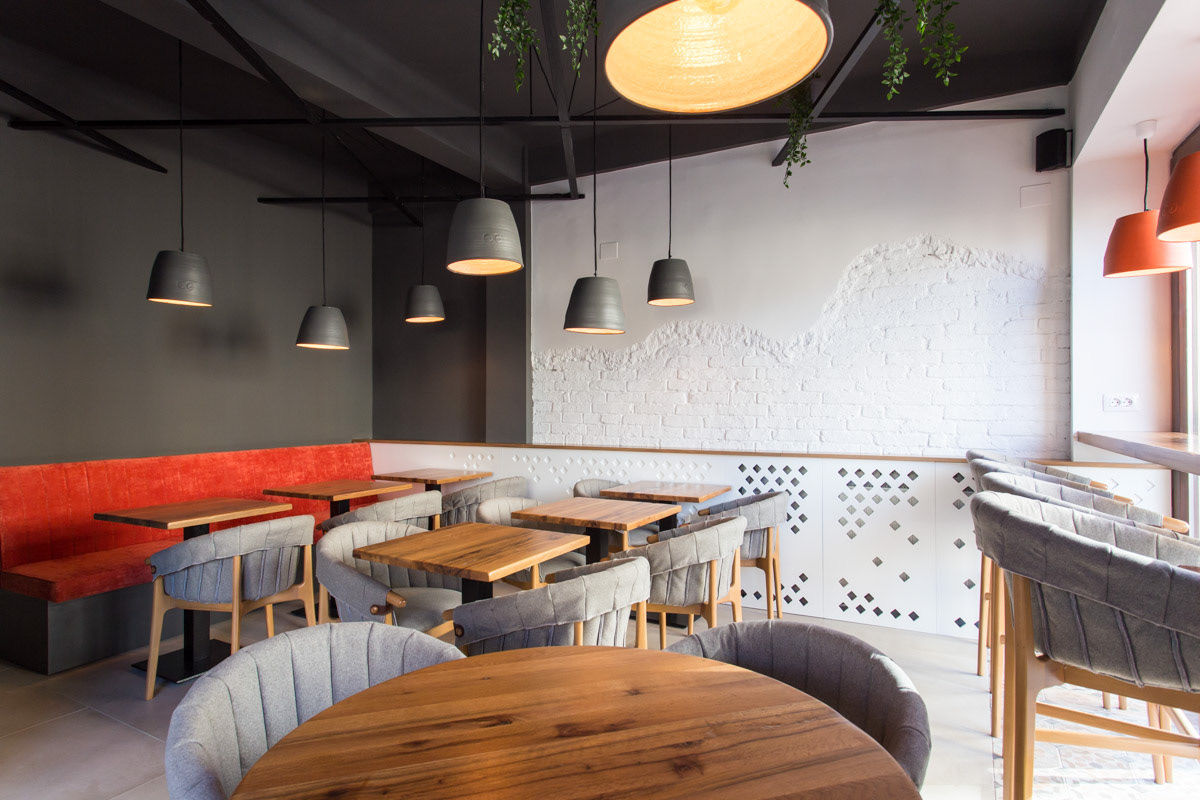 Already tested their coffee and bagels while photographing the interior, so we can now happily recommend them to all coffee & food lovers ;) Make sure to pay them a visit if you happen to pass through Oradea